REINTRODUCING RAY WILKES
The witty minimalist designed Herman Miller's most memorable foray into postmodern furniture, reissued 45 years later.
You probably don't know Ray Wilkes, the person, as much as you recognize #raywilkes, the hashtag. The latter is usually paired with a photo of Wilkes's most enduring design, a modular seating system that looks uniformly cheerful with its distinctive, rounded silhouette. You may also spot a #raywilkes in the wild, as I did when I found an Instagram post by a vintage dealer in the Bay Area, who had scored a pair of hefty chrome chair bases off the designer himself a few years ago. The bases are unusual, and rare—they were only prototyped for Herman Miller, never in production—and I was intrigued.

Chances are, I'm not the only person curious to know more about Ray Wilkes, now that Herman Miller has reissued his iconic Modular Sofa Group—dubbed "Chiclet"—for a new generation.
As it so happens, Ray Wilkes the person is 85, living in Southern California, and possessed with a keen memory for detail. He recalls the address of George Nelson's Manhattan office (50th Street at 5th Avenue) when Ray first arrived in the U.S. on a study grant from the Royal College of Arts. He remembers the precise Herman Miller catalog (Action Office I, 1964, with a green cover) to which he contributed drawings, in collaboration with fellow Nelson Office alum Tomoko Miho.

As Lance Wyman—another friend and colleague from the Nelson days—attests, Wilkes is "always sharp as a tack and very witty."
"The fact is, I like total simplicity," says Ray Wilkes. "It's the philosophy of my life. An architect once told me that I was a true minimalist. And minimalism isn't just straight lines—the most important thing is the form, and the simplicity of making it."

That perspective has driven all of Wilkes's work, but most notably the development of his Modular Sofa Group. After he arrived in Michigan to work full-time at Herman Miller, under then-design director Bob Blaich, Wilkes started experimenting with a new toy in the manufacturing area of the plant: a machine for injecting foam into a mold. "At first they were trying to apply the machine to Eames furniture, and then I was asked how it could be used," he recounts. Having learned the gist of the technology after a stint with designer Harvey Probber in Rhode Island, Wilkes had figured out how to avoid getting air bubbles into the foam.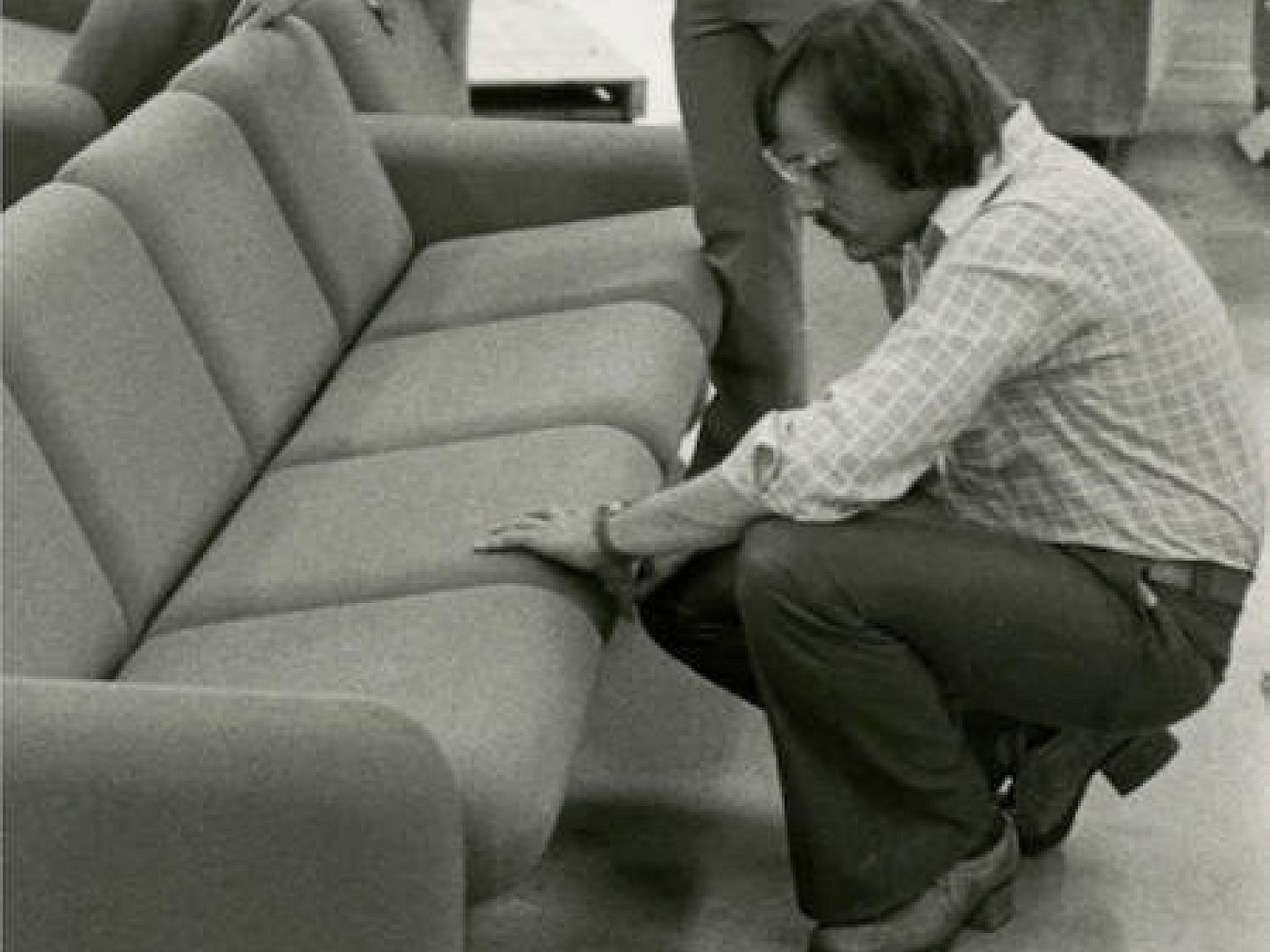 The molded forms he came up with were "all rounded, and it was possible to upholster them with Herman Miller's two-way-stretch fabrics, seamed around the edge of the cushion—which would be very hard with traditional cloth." That very distinctive cushion shape spawned a popular nickname for the collection that's still common today: Chiclet.
"The technology made Chiclet possible; it hadn't been done before. Logically, it's all simple and straightforward."
On first glance, his design may seem like a stylistic departure from the Herman Miller classics, but Head of Archives and Brand Heritage Amy Auscherman points out that "it's a modular system, and Herman Miller excels in systems."

Similarly, Herman Miller has a long track record of material and furniture innovation, typified by the Eameses' molded plywood group and going all the way back to Gilbert Rohde, who invented the sectional sofa. "Chiclet is another way to get at that idea with new materials and a different aesthetic," explains Auscherman. "It looks postmodern, but it's timeless, because it's pared down to the essentials."
Article Courtesy of Herman Miller. See full article here.